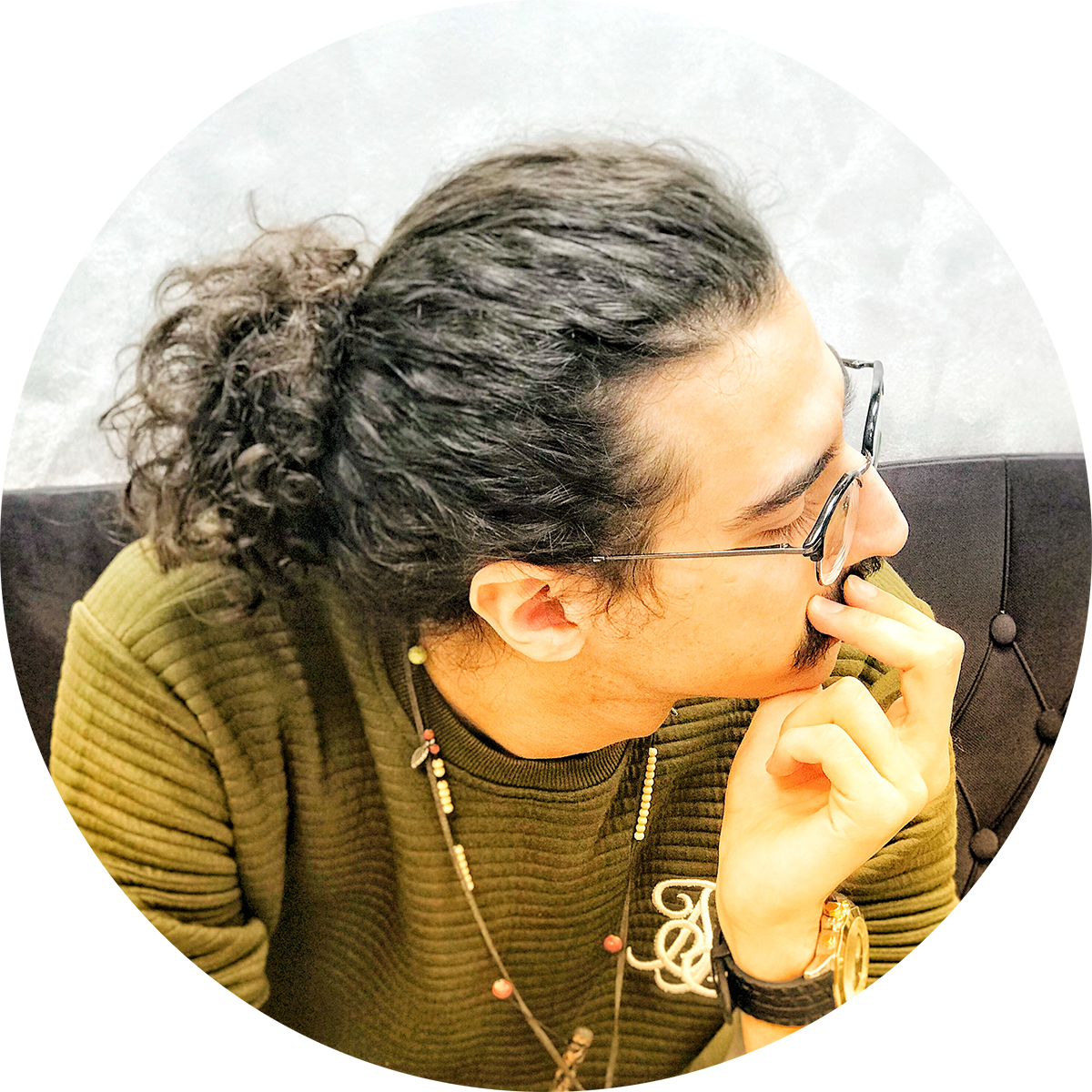 •  "Iran is a rich depository of contributions in the field of art, architecture, music, literature and cinema. The city of Isfahan, in particular, of opulent architectural structures and is the birthing ground of many prominent Iranian artists and prominent figures. It is also the home of Armin Amirian, a photographer and artist who, inspired by the work of many before him and the plight of his country, has chosen to create dynamic interpretations of the collective experiences of boasts his people." (By Jill Tan Radovan)
•  Armin started working professionally in the field of photography and cinema at the beginning of his teenage years. He has contributed to more than 100 festivals and exhibitions throughout the years and has received multiple international awards such as Young Author Award of 29th Caminos de Hierro (Spain 2018), The Jury Prize of Fomenar (2017), Golden medal of Asahi Shimbun Photo Awards (Japan 2015), Teenager of The Year of Warsaw's Graphic Biennale (Poland 2012), two-time winner of "Iran's Image of The Year Festival" (2015,2017), etc.
•  He has been honored with titles from art centers such as Ooshot (France 2018), Farhang Foundation (USA 2017), Fletcher Art Festival (USA 2016,2014), SIENA Awards (Italy 2015), Golden Bee Biennale (Russia 2014), Al-Thani Photo Festival (UAE 2012), etc.
•  His works have been sold at auctions like the Sotheby's and are available in collections and art foundations such as Ooshot Awards (France), Spanish Railways Foundation, Fletcher H. Dyer Foundation (USA), etc.
__________________________________________________________________________________
2021              "hICEstory" Series; Etemad Gallery, Tehran, Iran
2018-2019     "A'ar" Photo Series; Etemad Gallery, Tehran, Iran
• SELECTED GROUP  EXHIBITIONS:
2020    

Fletcher International Art Festival, Reece Museum; USA
2020    

"Art Through the Lens" Photography Exhibition, Yeiser Art Center; KY, USA
2020    

"Get the Message: Words and Images" Online Exhibition, Arts Benicia; CA, USA
2020    

"Vantage Point 8", Al Hamriyah, Sharjah Art Foundation; Sharjah, UAE
2020    

"Humanity"Online Exhibition (due to COVID-19), Cultural Center of Cape Cod; MA, USA
2020    

"The Next Big Thing", Studio Channel Islands Art Center; CA, USA
2020     "99 Photography" Exhibition, Tehran Art Gallery; Tehran, Iran
2019     Private Exhibition, Art Center Gallery; Tehran, Iran
2019     "Travel to The Morning", e1 Art Gallery; Tehran, Iran
2019     "Khorramshahr+30", Farmanfarma Gallery; Tehran, Iran
2019     Ooshot Award Exhibition, Les Magasins Generoux; Paris, France
2018     the 29th Caminos de Hierro Photography Exhibition, Fernan Nunez Palace; Madrid, Spain
2018     the 6th Art for Peace International Festival, Pardis-e Mellat Gallery; Tehran, Iran
2018     Fomenar Exhibition, Art Nou Millenni Gallery; Barcelona, Spain
2018     the 10th Fadjr International Festival of Visual Arts, Saba Art Complex; Tehran, Iran
2017     the 6th "10 Days with Photographers" Exhibition, Iranian Artists Forum; Tehran, Iran
2017   Focus Iran 2 - Contemporary Photography and Video Exhibition, Viewpoint Gallery; UC Irvine, USA
2017     the 5th Art for Peace International Festival, Iranian Artists Forum; Tehran, Iran
2017     the 12th Gothenburg International Poetry Festival; Gothenburg, Sweden
2017     the 9th Fadjr International Festival of Visual Arts, Tehran Museum of Contemporary Arts;Tehran, Iran
2017      "Hengam-e Now 3", Did Gallery; Tehran, Iran
2016   MOP Foundation in participation with the Sotheby's "Contemporary Iranian Art Exhibition", LACMA Museum; Los Angeles, USA
2016     "Blue Gold", Etemad Gallery; Tehran, Iran
2016     Fletcher International Art Festival, Reece Museum; USA
2016   Focus Iran 2 - Contemporary Photography and Video exhibition, CAFAM Museum; Los Angeles, USA
2015     Edinburgh Art Festival, Summer Hall Art Gallery; Edinburgh, Scotland
2014     "Major Japanese Cities" International Art Museum; Japan
2014     Fletcher International Art Festival, Reece Museum; USA
2013     Qatar Photographic Society Exhibition; Doha, Qatar
2020     Award of Excellence; Fletcher International Art Festival; Fletcher H. Dyer Foundation, USA
2020     Honorable Mention Award of Art Through the Lens; Yeiser Art Center, USA
2018     Finalist of the Ooshot Awards – Photographic Commission Prize; France
2018   Young Author Award at the 29th Caminos de Hierro Photography contest; the Spanish Railways Foundation, Spain
2017     Jury prize of the international "Premio Fomenar"; Spain
2017     the Art Photography Statue, first place of the Creative Art Photography (different view) & honorary diploma of the 14th "Picture of The Year" Festival; Tehran, Iran
2016     Chosen artist at the "Fletcher" International Art Festival; USA
2015     Finalist of the best open monochrome of SIENA International Photography Awards; Italy
2015     Golden medal of the 75th "Asahi Shimbun" International Photography Awards; Japan
2015     the Art Photography Statue, first place of the Creative Art Photography (different view) & honorary diploma of the 12th "Picture of The Year" Festival; Tehran, Iran
2015     Chosen artist at the "Edinburgh Art Festival"; Edinburgh, Scotland
2014     Chosen artist at the "Fletcher International Art Festival"; USA
2014     Chosen artist at "Russia and Italy's Manifesto Art" International Festival
2014     Chosen work in "MIFA International Photography Awards"; Moscow, Russia
2014     Chosen work in the 11th "Golden Bee" International Biennale; Moscow, Russia
2012     Chosen Teenager of the year at the 23rd Warsaw's International Biennale; Warsaw, Poland
2012     Chosen work at the 13th Al-Thani International Photography Award; UAE